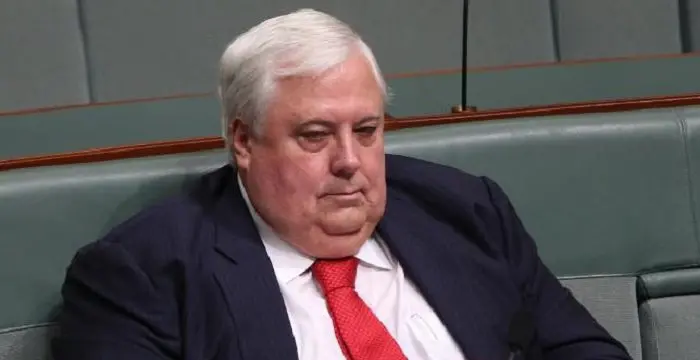 Clive Palmer - Politician, Facts and Life
Clive Palmer's Personal Details
Clive Palmer is an Australian mining giant who owns the mining company Mineralogy and is also a member of Australian Parliament
Information
Detail
Birthday
March 26, 1954
Nationality
Australian
Famous
Billionaires, University Of Queensland, Business People, Politician
Hobbies
Litigation
Spouses
Anna Topalov-Palmer (m. 2007), Susan Palmer (m. 1983–2005)
Known as
Clive Frederick Palmer
Childrens
Emily Palmer, Mary Palmer, Michael Palmer Lucy Palmer
Universities

University Of Queensland
Southport State High School
Aquinas College
Southport
Toowoomba Grammar School
University of Queensland

Humanitarian Works

founder of Palmer Care Foundation'

Notable Alumnis
Founder / Co-Founder
Birth Place
Melbourne
Political Ideology
Political party Palmer United Party (2013–present), Other political affiliations - National (1969–2008), Liberal National (2008–2012)
Height
182
Gender
Male
Father
George Palmer
Mother
Nancy McArthur
Net Worth
$2.2 Billion as of May 22,2017
Sun Sign
Aries
Born in
Melbourne
Famous as
Australian Politician
// Famous Politician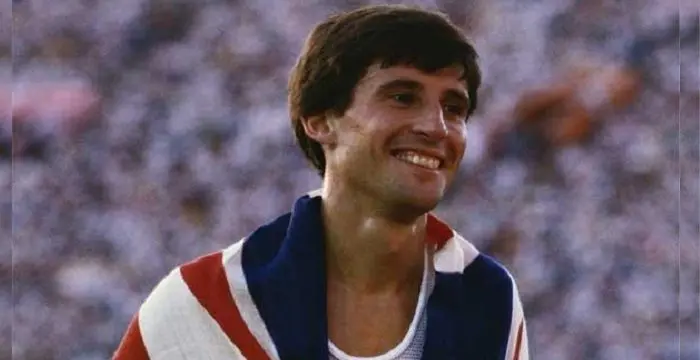 Sebastian Coe is a British former track and field athlete turned politician. This biography of Sebastian Coe provides detailed information about his childhood, life, achievements, works & timeline.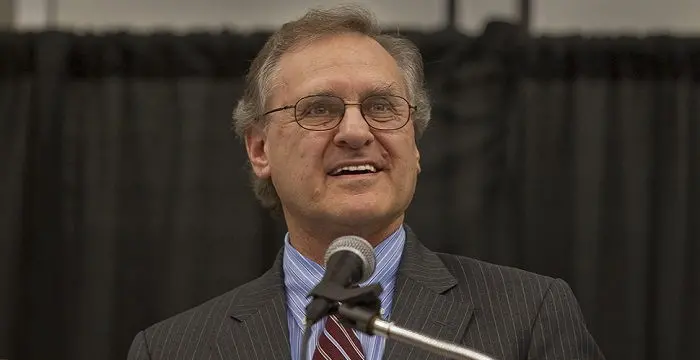 Stephen Lewis is a Canadian politician, broadcaster, diplomat and professor. This biography profiles his childhood, career, works, life, achievements and timeline.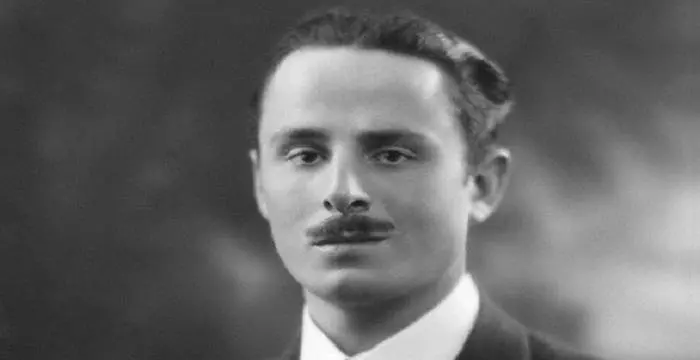 Sir Oswald Ernald Mosley was a British politician known for his pro-fascist beliefs. This biography profiles his childhood, family, personal life, opinions, career, etc.
Clive Palmer's photo
Who is Clive Palmer?
One of the richest men in Australia, Clive Palmer wears many hats. He is a businessman, a member of the Australian Parliament and he even managed to establish his own political party. He was born to working class parents, but after putting in some hard work and receiving his real estate license, he began making a profit from property development. But, his aspirations went beyond that and Palmer began dabbling in politics. During this time, he worked to establish contacts in influential places and began setting up his own businesses, such as the one he is most known for today – Mineralogy. Though he is considered a mining tycoon, his interests have also stretched out into the tourism industry with a variety of resorts that bear his name. By assisting the less fortunate by giving back his time and his earnings, he has proven to have a nurturing side. He is a supporter of medicine research, as well. Although clearly a man who is invested in his career, he has also married and started a family. He appears to value his downtime, and he is an avid sports fan. He even sponsors a few teams. To know more about his life and works read on
// Famous University Of Queensland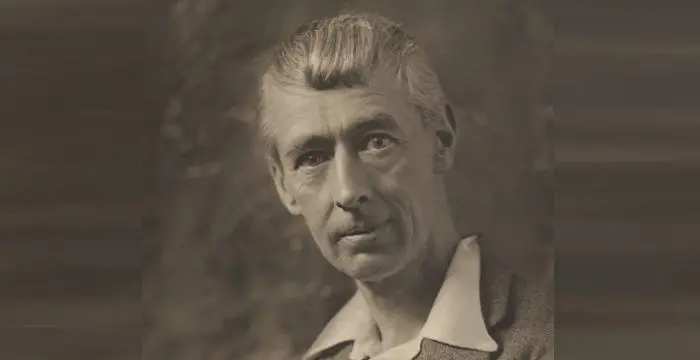 Norman Lindsay was an Australian artist, etcher, sculptor, writer, illustrator, scale modeler, and amateur boxer. Check out this biography to know about his childhood, life, achievements, works & timeline.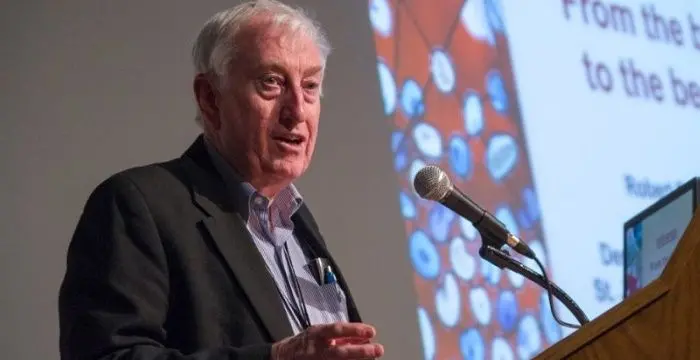 Peter C Doherty is a renowned Australian scientist circle, who was received the Nobel Prize in Physiology for the discovery of how immune system recognizes virus-infected cells. Read this biography to know in details about his childhood, life, career
Childhood & Early Life
Palmer was born March 26, 1954 in Melbourne, Australia. His parents, Nancy and George Palmer, were both working class. In 1963, his family made a move to Queensland.
He attended 'St. Mary's Primary School', 'Aquinas College', 'Southport State High School' and 'Toowomba Grammar School'. During his time at the 'University of Queensland', he studied law before dropping out in 1975.
Career
In 1974, he joined the National Party of Australia, Queensland division. He was heavily involved, serving in multiple roles.
During the 1983 state election, he served as the National Party's campaign director. The election was successful.
Palmer founded 'Mineralogy', a mining company, in 1984. Their key product is iron ore, and the company owns more than 1,000 km of Cape Preston's land.
During the 1986 campaign for the National Party, he served as the media spokesman.
In 2008, he purchased Australian coal mining development company 'Waratah Coal'. At the time or purchase, there was claimed to be a 4.4 billion tone resource.
Also in 2008, he purchased Australia's 'Gold Coast United' soccer club. Though he already had a business base in China, he said the team's participation in the Asian Champions league might boost his popularity in the country.
He purchased 'Palmer Nickel and Cobalt Refinery' and 'Queensland Nickel' in 2009. The company increased production by 30 percent the following year.
His ownership of Gold Coast United soccer club ended in 2012.
In 2012, he had a fall out with the 'Liberal National Party's hierarchy. He resigned his lifetime membership.
The same year, he founded 'Football Australia'. 'Football Australia', which serves as a competing organization to 'Football Federation Australia', has no international affiliates.
Also in 2012, he was declared secretary general of the 'World Leadership Alliance'.
Embarking on his political aspirations he formed the 'Palmer United Party' on April 25, 2013. Later that year, he was elected to the House of Representatives for Fairfax, Queensland.
Major Works
During a press conference in 2013, he told the world about his goal of building a replica of the RMS Titanic. The Titanic II, he said, will be built in China and have its maiden voyage from Southampton to New York City.
Also in 2013, he announced plans to build a dinosaur park not unlike that of 'Jurassic Park'. It will be built at the Sunshine Coast's Palmer Coolum Resort.
Awards & Achievements
In 2002, 'Deakin University's Faculty of Business and Law' declared Palmer Adjunct Professor. He held this title for the next four years and throughout the duration of this role, he delivered a variety of lectures as part of his program, sharing his expertise in the areas of business and law.
In 2008, 'Bond University', located on the Gold Coast, named him Adjunct Professor of Management due to his vast experience in business management and entrepreneurship.
Personal Life & Legacy
He married his first wife, Susan, whom he met at university. They had a son and a daughter together before she died of cancer in 2007. He remarried and had two daughters.
Palmer lives in a villa at one of his resorts, the 'Palmer Coolum Resort'. He is believed to have several other residences, including 11 properties in the Sovereign Islands.
He pledged $100 million in support of medical research for indigenous groups in the Western half of Australia. He is the founder, as well as the director, of the 'Palmer Care Foundation'.
The 'National Trust of Australia' declared him an Australian national living treasure in 2012. The National Trust is an organization committed to protecting the country's heritage.
Net Worth
In June 2014, his estimated net worth was $1.22 billion. This placed him at No. 28 on BRW's Rich 200 list
// Famous Business People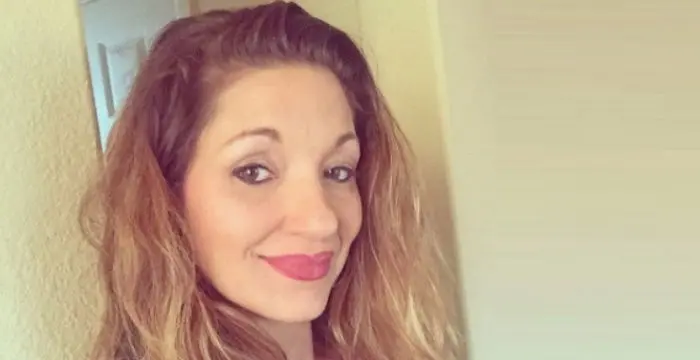 Kristina Sunshine Jung is an American entrepreneur and actor, better known as the daughter of drug-smuggler George Jung and his ex-wife, Mirtha Jung.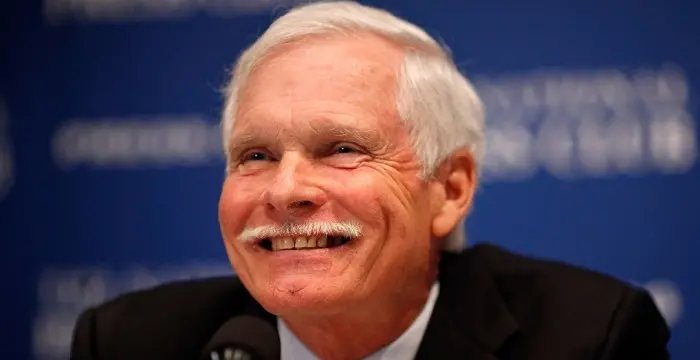 Ted Turner is a media tycoon who founded the cable news network CNN. This biography of Ted Turner provides detailed information about his childhood, life, achievements, works & timeline.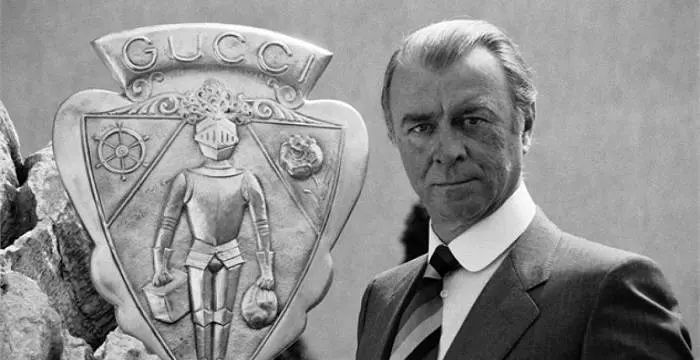 Guccio Gucci was a famous fashion designer from Florence, Italy, and the founder of the world-renowned fashion brand 'Gucci.' Check out this biography to know about his childhood, family, personal life, career, etc.
Clive Palmer biography timelines
// 26th Mar 1954 To 1963

Palmer was born March 26, 1954 in Melbourne, Australia. His parents, Nancy and George Palmer, were both working class. In 1963, his family made a move to Queensland.

// 1974

In 1974, he joined the National Party of Australia, Queensland division. He was heavily involved, serving in multiple roles.

// 1975

He attended 'St. Mary's Primary School', 'Aquinas College', 'Southport State High School' and 'Toowomba Grammar School'. During his time at the 'University of Queensland', he studied law before dropping out in 1975.

// 1983

During the 1983 state election, he served as the National Party's campaign director. The election was successful.

// 1984

Palmer founded 'Mineralogy', a mining company, in 1984. Their key product is iron ore, and the company owns more than 1,000 km of Cape Preston's land.

// 1986

During the 1986 campaign for the National Party, he served as the media spokesman.

// 2002

In 2002, 'Deakin University's Faculty of Business and Law' declared Palmer Adjunct Professor. He held this title for the next four years and throughout the duration of this role, he delivered a variety of lectures as part of his program, sharing his expertise in the areas of business and law.

// 2007

He married his first wife, Susan, whom he met at university. They had a son and a daughter together before she died of cancer in 2007. He remarried and had two daughters.

// 2008

In 2008, he purchased Australian coal mining development company 'Waratah Coal'. At the time or purchase, there was claimed to be a 4.4 billion tone resource.

// 2008

Also in 2008, he purchased Australia's 'Gold Coast United' soccer club. Though he already had a business base in China, he said the team's participation in the Asian Champions league might boost his popularity in the country.

// 2008

In 2008, 'Bond University', located on the Gold Coast, named him Adjunct Professor of Management due to his vast experience in business management and entrepreneurship.

// 2009

He purchased 'Palmer Nickel and Cobalt Refinery' and 'Queensland Nickel' in 2009. The company increased production by 30 percent the following year.

// 2012

His ownership of Gold Coast United soccer club ended in 2012.

// 2012

In 2012, he had a fall out with the 'Liberal National Party's hierarchy. He resigned his lifetime membership.

// 2012

Also in 2012, he was declared secretary general of the 'World Leadership Alliance'.

// 2012

The 'National Trust of Australia' declared him an Australian national living treasure in 2012. The National Trust is an organization committed to protecting the country's heritage.

// 2013

During a press conference in 2013, he told the world about his goal of building a replica of the RMS Titanic. The Titanic II, he said, will be built in China and have its maiden voyage from Southampton to New York City.

// 2013

Also in 2013, he announced plans to build a dinosaur park not unlike that of 'Jurassic Park'. It will be built at the Sunshine Coast's Palmer Coolum Resort.

// 25th Apr 2013

Embarking on his political aspirations he formed the 'Palmer United Party' on April 25, 2013. Later that year, he was elected to the House of Representatives for Fairfax, Queensland.

// Jun 2014

In June 2014, his estimated net worth was $1.22 billion. This placed him at No. 28 on BRW's Rich 200 list
// Famous Billionaires
Clive Palmer's FAQ
What is Clive Palmer birthday?

Clive Palmer was born at 1954-03-26

Where is Clive Palmer's birth place?

Clive Palmer was born in Melbourne

What is Clive Palmer nationalities?

Clive Palmer's nationalities is Australian

What is Clive Palmer hobbies?

Clive Palmer's hobbies is Litigation

Who is Clive Palmer spouses?

Clive Palmer's spouses is Anna Topalov-Palmer (m. 2007), Susan Palmer (m. 1983–2005)

Who is Clive Palmer childrens?

Clive Palmer's childrens is Emily Palmer, Mary Palmer, Michael Palmer Lucy Palmer

What was Clive Palmer universities?

Clive Palmer studied at University Of Queensland, Southport State High School, Aquinas College, Southport, Toowoomba Grammar School, University of Queensland

What was Clive Palmer notable alumnis?

Clive Palmer's notable alumnis is University Of Queensland

Which company or organization was founded by Clive Palmer?

Clive Palmer was the founder/co-founder of Palmer United Party

What is Clive Palmer's political ideology?

Clive Palmer's political ideology is Political party Palmer United Party (2013–present), Other political affiliations - National (1969–2008), Liberal National (2008–2012)

How tall is Clive Palmer?

Clive Palmer's height is 182

Who is Clive Palmer's father?

Clive Palmer's father is George Palmer

Who is Clive Palmer's mother?

Clive Palmer's mother is Nancy McArthur

What is Clive Palmer's sun sign?

Clive Palmer is Aries

How famous is Clive Palmer?

Clive Palmer is famouse as Australian Politician