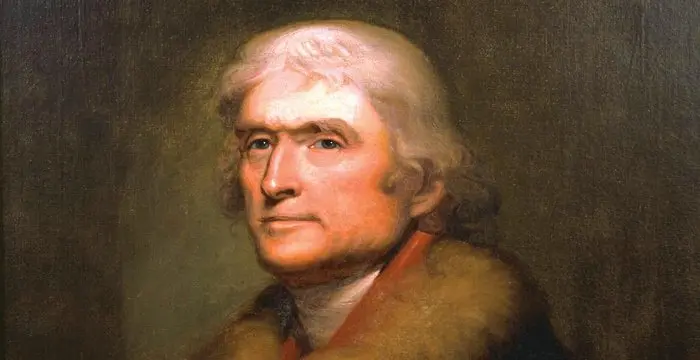 Thomas Jefferson - Political Philosopher, Birthday and Facts
Thomas Jefferson's Personal Details
Thomas Jefferson was a political philosopher and the third President of the United States
| Information | Detail |
| --- | --- |
| Birthday | April 13, 1743 |
| Died on | July 4, 1826 |
| Nationality | American |
| Famous | Leaders, Political Leaders, INFJ, Political Philosopher, the Third President of America |
| Spouses | Martha Wayles Skelton |
| Siblings | Randolph |
| Childrens | Jane Jefferson, Lucy Elizabeth Jefferson, Martha Jefferson Randolph, Mary Jefferson Eppes |
| Universities | College of William and Mary |
| Founder / Co-Founder | |
| Birth Place | Shadwell |
| Religion | Unitarian |
| Gender | Male |
| Father | Peter Jefferson |
| Mother | Jane Randolph |
| Sun Sign | Aries |
| Born in | Shadwell |
| Famous as | Political Philosopher & the third President of America |
| Died at Age | 83 |
Thomas Jefferson's photo
Who is Thomas Jefferson?
Thomas Jefferson was a major political leader and the third president of the United States serving from 1801 to 1809. He was also a co-founder and leader of the Democratic Republic Party, the wartime Governor of Virginia (1779-1781) and author the book Virginia Statute for Religious Freedom. Before elected to the presidency, he was appointed the first United States Secretary of State during 1789-1793 and was the second Vice-president of America where he served from 1797 to 1801. In 1776, he was the main author of the Declaration of Independence and gained appreciation for his role in promoting republicanism in the United States. While in power, Jefferson fiercely supported the idea of democracy and favored states rights and a limited Federal government in America, which he considered as virtues of republicanism. A man of many talents, Thomas Jefferson explored many interests and gained high opinion for his quality as a horticulturist, statesman, architect, archaeologist, inventor, and founder of the University of Virginia.
// Famous Political Philosopher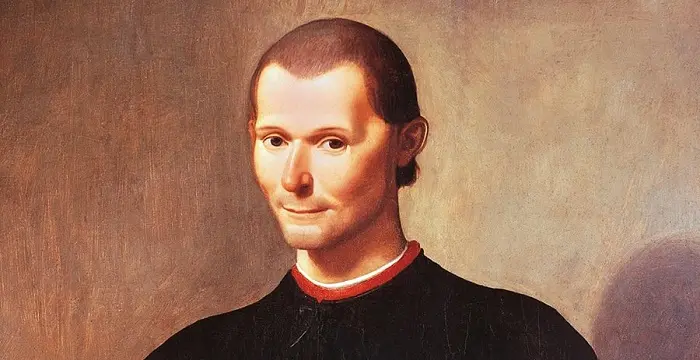 Niccolo Machiavelli was an Italian politician, historian and philosopher who is widely known as a founder of modern political science.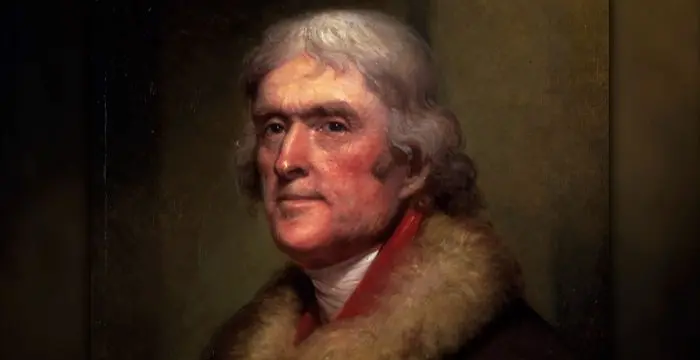 Alexander Hamilton was one of the Founding Fathers of the United States, who later on became the first U.S. Secretary of the Treasury. Check out this biography to know about his childhood, career, family life, and achievements.
Biography detail
Childhood & Education
Born on 13 April 1743 in Virginia, Thomas Jefferson was the third of eight children of Peter Jefferson and Jane Randolph. His father, who was of Welsh descent, was a ship's captain and worked as a planter for sometime. In 1745, his family moved to Tuckahoe and lived there for seven years before they returned to their home in Albemarle after his father was appointer to the colonelcy of the county. Jefferson's education began in 1752 from a school run by William Douglas, who was a Scottish minister. From the time he was nine, Jefferson became an avid learner of Greek, French and Latin. Thomas Jefferson's father died in 1757, making his son an heir to his huge land assets and a number of slaves.
During 1758 to 1760 Jefferson taught at the school of the erudite minister James Maury, whereupon he received a classical education and studied science and history. He enrolled at The College of William & Mary in Williamsburg in 1760, where he studied mathematics, metaphysics, and philosophy graduating with supreme honors in 1762. As a keen student, Jefferson took interest in learning different languages and throughout his students life he studied for fifteen hours a day. A gourmet and an avid lover of wine, Thomas learned to play violin and took a keen interest in arts. After graduating, he studied law with George Wythe and began practicing law in Virginia Bar in 1767. Between the year 1768 and 1773, he handled a number of cases and established himself as a reputed lawyer.
Marriage & Children
Thomas Jefferson married a young widow Martha Wayles Skelton in 1772 and the couple had six children: Martha Jefferson Randolph, Jane Randolph, Mary Wayles, Lucy Elizabeth and Elizabeth. Martha gave birth to a stillborn son in 1777. She died on 6 September 1782.
Early Political Life
Jefferson was appointed as a delegate to the Second Continental Congress in 1775 and with the beginning of American resolution of independence in 1776; he served as a member to a committee for preparing the declaration of the independence resolution. The draft was presented to congress on 2 July and on 4 July 1776; the wording of the Declaration of Independence was approved, making Jefferson a popular face of the country.
In 1776, Jefferson was elected to the new Virginia House of Delegates. As a delegate he instigated a series of reforms and bills to expose Virginia's new state as a democratic state, among which the most prominent were the laws to end primogeniture and establish freedom of religion in the state. Jefferson further produced a bill on 'General Diffusion of Knowledge' in 1778, which resulted in the establishment of an elective system of study in the College of William and Mary. He proposed bills to eliminate death as a penalty except in case of a murder of treason, though his efforts were beaten and crimes as rape remained punishable to death for a long time after. 
Governor of Virginia
Jefferson became the governor of Virginia in 1779 and remained in his position until 1781. It was during his tenure that the capital of state was transferred from Williamsburg to Richmond in 1780. His constant efforts in the field of education were recognized in 1779, when George Wythe was appointed as the first professor of law at the college of Williams and Mary. Jefferson's governorship was marked by two British invasion of Virginia which ruined his reputation as Governor and he never won any election from Virginia in future. Thereafter, Jefferson served as minister to France from 1785 to 1789 and supported France against Britain when the war was declared between these two countries in 1793.
Secretary State of the U.S
Jefferson became the first Secretary of State in 1790, under the presidency of George Washington. As a Secretary of State he openly spoke against widespread Federalism in the U.S. and continued to view it as a threat to Republicanism. He further along with James Madison co founded and led the Democratic-Republican Party and formulated a set of connections with republican allies to fight the Federalists across the country.
Vice-Presidency & Presidency
After a failed bid for vice presidency in 1796, Jefferson became Vice-President of the United States in 1797. Federalists, who were preparing for war with France, passed a new Alien and Sedition Acts in 1798 as a source of inciting money through taxes. Jefferson harshly criticized these tactics and intensified his attack on Federalism, as he believed that Federalists had no right to exercise such extent of power.
Thomas Jefferson successfully ran for in his the presidency for the first time in 1800. Though he did not campaign for his party- as was the tradition that time-He became the President of the United States in a landslide victory on 17 February 1801.
Life after Presidency
In his life after presidency, Thomas Jefferson remained active in the American politics and enthusiastically participated in educational and cultural organizations. Education remained his prime concern throughout his life and he took measures to promote higher education among people. His efforts finally fructified in 1819, when the University of Virginia was founded and the University, which was first to offer a full slate of elective courses, was opened in 1825.
Jefferson is also known for his love for architecture and archeology- a stream which was still developing that time. He had a large contribution in the architectural planning of the University of Virginia which became an embodiment of science and beauty with its planned site surrounding lawn and linking arcades. The University, which is constructed in Greek and Roman style, represents a unique architecture and intellectual ideas of Thomas Jefferson who became known as the father of the University.
In 1780, Jefferson became a member of Benjamin Franklin's American Philosophical Society and served as its president from 1795 to 1815. An avid wine lover, Jefferson traveled to France and other European countries in order to raise his collection of famous wines. In 1801, he published A Manual of Parliamentary Practice whose second edition came in 1812. After the Library of Congress was burnt down by British in 1814, Jefferson's huge collection of books became a part of the new library, which is named after him in his honor.
Death
Thomas Jefferson died on 4 July 1826, a date which coincides with the 50th anniversary of the declaration of Independence. After his death, his assets were sold off in an auction to pay his huge debt. Thomas Jefferson is buried at Monticello in Virginia, the home he had built in his youth.
// Famous INFJ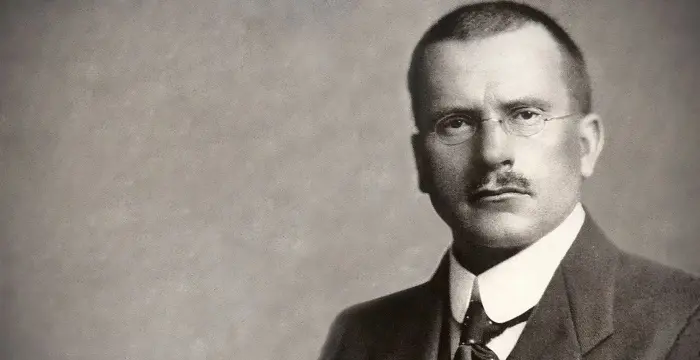 Carl Jung was a Swiss psychiatrist famous for founding the school of analytical psychology. This biography of Carl Jung provides detailed information about his childhood, life, achievements, works & timeline.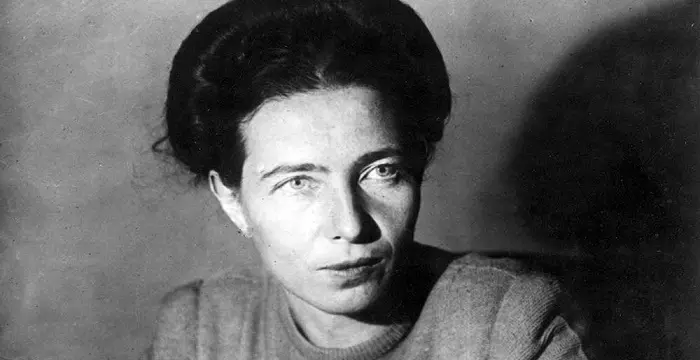 Simone de Beauvoir was an eminent French writer, intellectual, activist, and philosopher. This biography profiles her childhood, life, thoughts, achievements and timeline.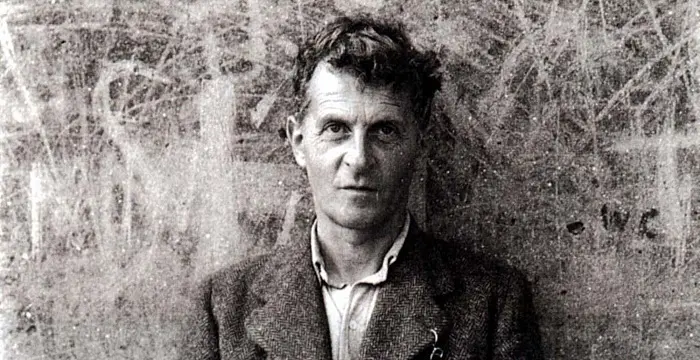 Ludwig Wittgenstein is a renowned philosopher. Read on to know about the life, career, and works of the famous Austrian philosopher Ludwig Wittgenstein.
// Famous Political Leaders
Thomas Jefferson's FAQ
What is Thomas Jefferson birthday?

Thomas Jefferson was born at 1743-04-13

When was Thomas Jefferson died?

Thomas Jefferson was died at 1826-07-04

Where was Thomas Jefferson died?

Thomas Jefferson was died in Charlottesville

Which age was Thomas Jefferson died?

Thomas Jefferson was died at age 83

Where is Thomas Jefferson's birth place?

Thomas Jefferson was born in Shadwell

What is Thomas Jefferson nationalities?

Thomas Jefferson's nationalities is American

Who is Thomas Jefferson spouses?

Thomas Jefferson's spouses is Martha Wayles Skelton

Who is Thomas Jefferson siblings?

Thomas Jefferson's siblings is Randolph

Who is Thomas Jefferson childrens?

Thomas Jefferson's childrens is Jane Jefferson, Lucy Elizabeth Jefferson, Martha Jefferson Randolph, Mary Jefferson Eppes

What was Thomas Jefferson universities?

Thomas Jefferson studied at College of William and Mary

Which company or organization was founded by Thomas Jefferson?

Thomas Jefferson was the founder/co-founder of University of Virginia

What is Thomas Jefferson's religion?

Thomas Jefferson's religion is Unitarian

Who is Thomas Jefferson's father?

Thomas Jefferson's father is Peter Jefferson

Who is Thomas Jefferson's mother?

Thomas Jefferson's mother is Jane Randolph

What is Thomas Jefferson's sun sign?

Thomas Jefferson is Aries

How famous is Thomas Jefferson?

Thomas Jefferson is famouse as Political Philosopher & the third President of America