Ingredients for the biscuit dough (for a 30×40 baking tray)
Eggs 245 g (about 5 medium)
Sugar 115 g
Flour 00 80 g
Vanilla extract 1 teaspoon
to stuff
Strawberries 300 g
Fresh liquid cream 500 g
Icing sugar 60 g
to decorate
Preparation
To prepare the strawberry roll start from the biscuit dough: pour the eggs and vanilla extract into the bowl of the planetary mixer equipped with a whisk (1). Operate the machine and slowly pour the sugar. Work for about 10 minutes until the mixture is swollen, clear, and fluffy (3).
Add the flour by sifting it directly into the bowl (4) and mix gently with a spatula from the bottom to top to incorporate it (5). Grease and line with parchment paper a 30×40 cm baking sheet. Then pour the dough into the pan (6).
Level the surface with a spatula (7) and bake in a preheated static oven at 220 ° for 8-10 minutes until the surface is golden and the dough will be cooked (8) Obviously adjust with your oven, it may take fewer minutes or a lower temperature if very powerful. In the meantime, prepare a sheet of parchment paper and place it on the counter. As soon as you churn out the biscuit dough in fact you will have to turn it upside down on the sheet of parchment paper (9), in this way it will remain moist.
Let it cool before removing the parchment paper very gently (10). Then cover again with the parchment paper sheet and let cool completely (11). Now wash the strawberries and remove the petiole (12).
Cut them first into slices and then into cubes (13). Pour the cold fresh cream into a bowl; start whipping with an electric whisk and slowly pour the icing sugar (14). Continue until you get a firm cream, but not too whipped (15).
Once the biscuit dough is completely cold, remove the sheet of parchment paper and fill it with whipped cream. With the help of a spatula, spread it well over the entire surface (16). Spread the strawberries on top (17) and lifting the parchment paper roll the roll from the shorter side (18).
Tighten it gently (19) and make sure that the closure of the roll is downwards (20). Close it again in parchment paper (20) and transfer it to the refrigerator for 30 minutes. Then take the rollback and discard it (21).
Sprinkle with icing sugar (22), if necessary trim it (23), then cut it into slices and serve it (24)!
Preservation
The cream and strawberry roll can be stored in the refrigerator for a couple of days, well covered.
Advice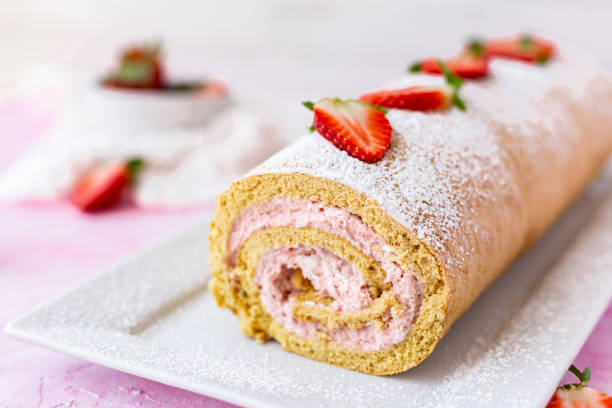 You can flavor the biscuit dough with orange or lemon zest.
To the dough you can also add a teaspoon of honey, it will give a greater color and aroma.
It is possible to make the cocoa biscuit paste instead of the classic one.
If you prefer, you can reduce the dose of sugar inside the cream or replace it with honey.
Don't miss interesting posts on Famousbio