We will explain how to prepare a cheese board, step by step, so you know what to bring and what accompaniments you should include in this experience.
Cheese is one of the most multifaceted and delicious foods that exist since it can be tasted in different ways and accompanied by a very wide variety of foods. The best way to do this is with a cheese board to know the types and varieties that are around this dairy. That is why we will explain how to prepare a cheese board, step by step, and follow the best tips for it.
To prepare a cheese board like an expert, you must take into account certain indispensable elements such as the board, temperature, accompaniments, and types of cheese available.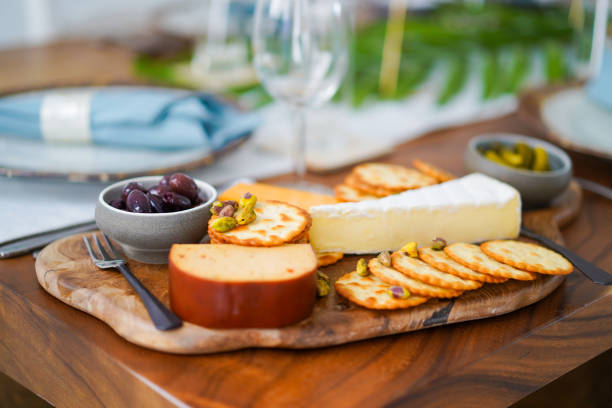 Board
We recommend that your board be made of firm wood so that it is not mistreated with the cuts of the knife and that it does not absorb the smells of the cheeses, which can become quite penetrating.
Temperature
To prepare your cheese board it is important that you do it at room temperature, so it will be enough to remove the cheeses from the refrigerator about 15 or 20 minutes before serving.
Accompaniments
To accompany your cheeses on the tasting board, we recommend choosing a soft bread and a crunchy one (such as rye bread) and some crackers to contrast their flavor with the texture of the cheeses.
You can also have a sweet element such as jams, quince candy, grapes, or honey, which will help not only accentuate the flavors of the cheese but also clean the palate and refresh the mouth.
You can also choose to include nuts such as walnuts, almonds, or pistachios, as they complement very well with the flavors of the cheese. On the other hand, olives and pickles such as scallions or pickles will give a touch of extra flavor without being too aggressive. In case you are a fan of cold meats or sausages, you can choose varieties such as prosciutto, salami, Spanish chorizo, and baked ham, as this will bring diversity to the cheeses you put for tasting.
How to choose the types of cheese for your board
As our goal is to taste to know different flavors and textures, we recommend that you use a minimum of 4 varieties of cheese and a maximum of 8. In this way, you can delight yourself with different flavors without overloading your palate.
You should also keep the following in mind when choosing cheeses for your board:
Texture: can be soft, semi-soft, hard or spreadable.
Maturation: this refers to the time it takes to take its final form, such as tender or cured cheeses until they are aged.
Intensity: fresh, pronounced or strong.
Animal from which the milk comes: goat, sheep, cow, buffalo or a mixture).
Now that you know how to prepare a cheese board, we invite you to complement your experience by knowing what are the healthiest cheeses that should not be missing in your diet and how to make a pairing with cheese. And if you want to eat healthily it is important that you know which yellow cheeses have more fat than milk.
Don't miss interesting posts on Famousbio