Ingredients
Carnaroli rice 320 g
Peas 80 g
Robiola 80 g
Basil q.b.
Extra virgin olive oil to .b.
Salt to taste .b.
Black pepper q.b.
For the red pesto
Dried tomatoes in oil 140 g
Almonds 30 g
Parmigiano Reggiano PDO 30 g to be grated
Extra virgin olive oil 60 g
Basil 10 g
Preparation
To make the risotto with red pesto start from the preparation of the pesto: pour the dried tomatoes into a mixer (1) together with the almonds (2) and basil (3).
Add the oil (4) and blend for a few seconds, then add the grated Parmesan (5) and blend again to obtain a creamy consistency. Transfer the red pesto to a bowl (6), cover with plastic wrap, and set aside.
Bring a pot of water to a boil and move on to the preparation of the risotto: pour the rice into a saucepan with a drizzle of hot oil (7) and toast it over high heat for a few minutes, then add the salt (8) and stir. Cook the rice by wetting it with a ladle of boiling water at a time (9); it will take about 15 minutes.
Halfway through cooking, add the peas (10) and continue adding boiling water as needed. Once cooked, turn off the heat and stir in the red pesto (11), stretching it if necessary with a little boiling water (12).
Mix well to mix (13) and serve, garnishing with robiola flakes (14), pepper to taste, and a few leaves of fresh basil: your risotto with red pesto is ready to be served (15)!
Preservation
It is advisable to immediately consume the risotto with red pesto.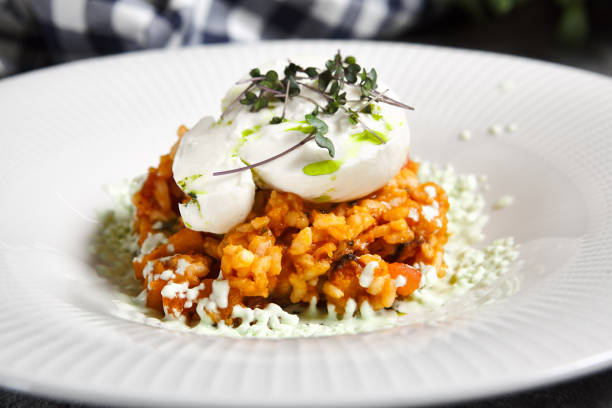 Advice
If you prefer you can make red pesto with half a dose of almonds and half of the pine nuts.
Instead of the mixer, you can use an immersion blender.
Don't miss interesting posts on Famousbio