Ingredients for about 30 ricotta pancakes
Ricotta cheese 320 g
Flour 00 215 g
Whole cane sugar 100 g
Baking powder 10 g
Lemon zest 1 to grate
For frying
To sprinkle
Preparation
To make the ricotta pancakes pour the ricotta (1) and brown sugar into a bowl (2), then work with a marina. Add the grated lemon zest (3).
Add the flour (4) and baking powder (5) and stir again, then knead with your hands to obtain a compact and homogeneous mixture (6).
Take small portions of dough of about 20 g each and round them between the palms of your hands to form balls (7); with these doses, you will get about 30-32 pieces. Place the balls on a tray lined with parchment paper and in the meantime heat the seed oil to a temperature of 160 °. Fry a few pieces at a time to prevent the oil temperature from dropping (8). Drain the pancakes when they are beautifully golden, it will take about 4-5 minutes (9).
Gradually transfer the pancakes to absorbent paper (10), then pass them still hot in granulated sugar (11). Your ricotta pancakes are ready to be enjoyed (12)!
Preservation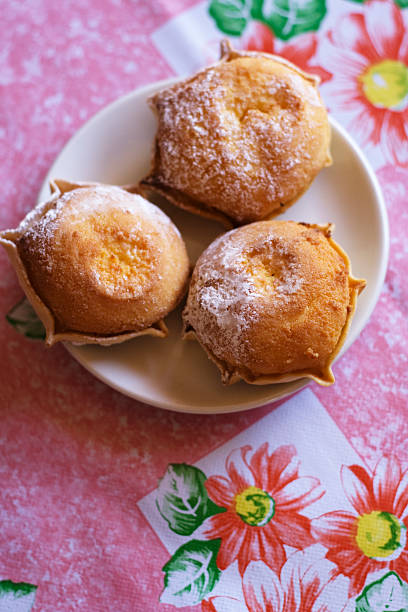 It is advisable to consume freshly made cottage cheese pancakes. Alternatively, you can store them in the refrigerator for a day.
If you prefer to prepare the balls a few hours in advance you can store them in the refrigerator and fry them before serving.
Advice
You can flavor the dough of ricotta pancakes with a pinch of cinnamon or coconut rapé.
Use ricotta with a dry consistency: if it is too watery, drain it in a colander before adding it.
Don't miss interesting posts on Famousbio