A piece of very easy, tender, delicious bread without the need for an oven, because we are going to cook the bread in a pan.
Naan bread is bread from Central and South Asia (Pakistan, India, Burma, Iran, Afghanistan). It is a very simple bread that is made with wheat flour, yeast, salt, and yogurt. Without any complex indication, we just mix the ingredients, knead and leave them at rest so that slight, Then we assemble balls, crush them and fry them. Simpler impossible.
Naan is a soft, smooth bread traditionally baked in a clay oven called tandur.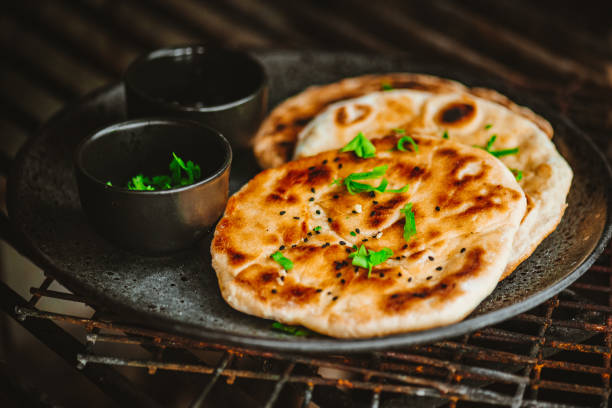 Bread in India was mainly chapatis and rotis, foods that were created during the Harappan culture when wheat was also grown, but it took civilization another 100 years to obtain a variation of fermented bread using the famous tandur oven. The first recorded history of the naan was found in the notes of the Indo-Persian poet Amir Kushrau, in 1300 AD.
Naan is a word meaning "bread" in Persian. As for its origin, it is said to be the result of an experiment after the arrival of yeast in Egypt, but another theory says that it was invented by the Mughals and Persians around 1520.
Whatever the true history of naan bread, today we are going to learn how to make it in our home.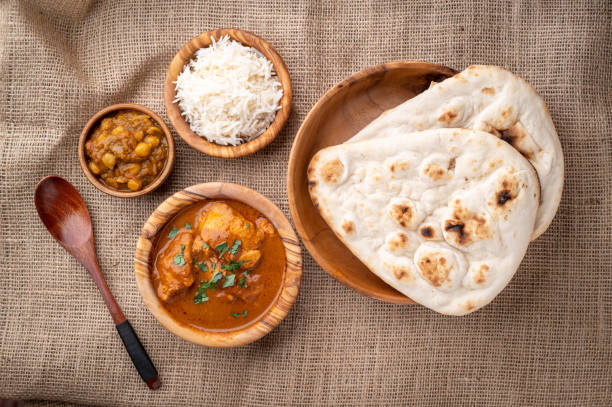 How to make naan bread, Indian bread
Preparation time 15 minutes
cooking time 4 minutes
lifted 1-hour
total time 1 hour 19 minutes
Servings 6 Calories 311kcal
Ingredients
Mass
500 grs. common wheat flour (4 cups)
100 ml. liquid milk (1/3 cup and 4 tablespoons)
100 ml. warm water (1/3 cup and 4 tablespoons)
1 plain yogurt (1/2 cup)
3 tbsp. oil
10 grs. white sugar 1 tablespoon
10 grs. fine salt 1 tablespoon
5 grs, baker's dry yeast (15 g fresh yeast 1/2 tablespoon)
To serve
1 bunch of cilantro
40 grs. melted butter
3 cloves garlic
Step-by-step elaboration
Naan bread dough
In a container pour the warm water along with sugar and yeast. Let them reopsar 10 minutes before integrating them into the rest of the ingredients.
Place the flour in a bowl and form a volcano, add in the middle the milk, natural or Greek yogurt, salt and oil.
Mix with the help of a wooden pallet all the ingredients inside the bowl until the dough gets hard and it is difficult to continue working with the pallet.
We put the dough on a clean and floured counter, we continue to integrate the ingredients very well and then we start kneading for 5 continuous minutes and let the dough rest the same time, then we do it twice more until the dough is well smooth.
Make a ball and leave in a container lightly greased with oil and cover with film paper and let stand for an hour.
In a floured inn, put our dough and divide into 6 portions, we will make a ball with each piece and then stretch with the help of a roller until the bread extends. It should be 1.5 cm. thick.
Cooking naan bread
Place on the stove a thick pan, over medium heat, put the bread on the pan and leave about 2 minutes on each side, we must wait for the surface of the bread to fill with bubbles at that time is that we must turn it.
Butter and garlic
Chop the cilantro very finitely, crush the garlic and add it to the melted butter. With this mixture we will paint our naan breads when leaving the pan.
Nutrition
Serving: 100g | Calories: 311kcal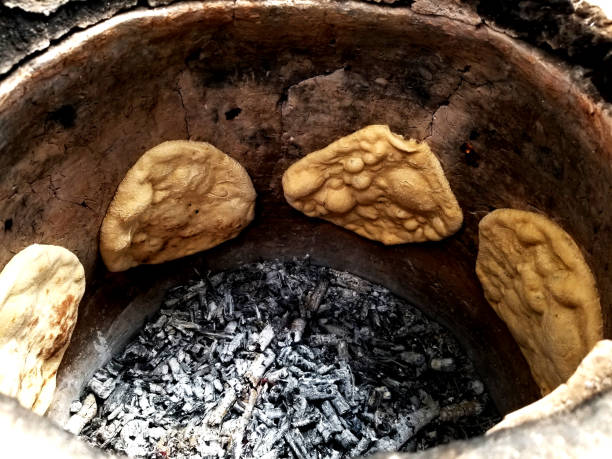 Recommendations
If you prefer, instead of plain yogurt, you can use Greek yogurt.
Naan is served warm. When they come out of the pan you can wrap them in a cloth and keep them inside the slightly preheated oven while you finish cooking them all.
If you have uncooked naan bread left, we can store each unit wrapped in plastic film in the fridge and it will last up to a couple of days, reheat it in the oven or microwave or cook it, as the case may be.
If you don't like cilantro you can replace it with parsley.
To prepare this naan bread, the water should be warm but not hot.
This delicious bread can be eaten with everything you like, cheese, cold cuts, eggs. Also with hummus.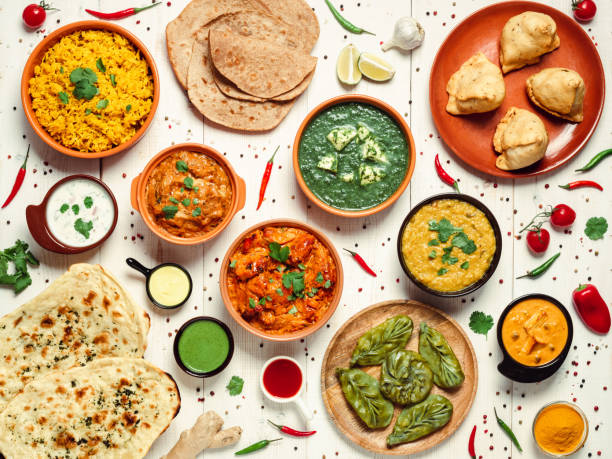 Don't miss interesting posts on Famousbio