If you have decided to include pineapple in any of your menus for these holidays do not panic. Although at times, this fruit may seem to us an insurmountable obstacle due to its thorny exterior and its large size, there is nothing that a little skill and a sharp knife can not achieve. Once you learn, you will no longer spend extra money on buying this pre-cut fruit. To know if a pineapple is ripe it must be firm but hard, it smells fresh and its leaves must be bright green with few spots. To calculate how many pineapples you need, you should know that, approximately, from a large pineapple, you will get eight cups of chopped pieces and that, once cut, it will hold you, in good condition, for five days in the refrigerator.
The essential tools for cutting a pineapple without dying in the attempt are a large and well-sharpened kitchen knife, a smaller knife, and a cutting board.
How to cut a pineapple
The first thing you should do is place the pineapple on a cutting board and make sure that it will not move. The first thing is, with the chef's knife, get rid of the bottom and the crown of the fruit. Place the pineapple at one end of the board and with the knife parallel to the fruit, remove the outer skin with the knife as close to the skin as possible to preserve as much fruit surface as possible. Then cut it into quarters and remove the core. Each quarter turns it into triangles that then make smaller pieces.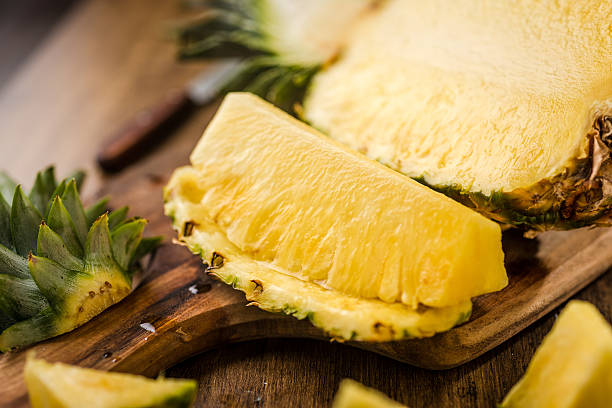 Don't miss interesting posts on Famousbio