Delicate and complex, Thai cuisine offers an explosion of flavors, in "street food" version, as in gourmet restaurants.
Thai cuisine is said to be one of the finest in the world. It's true! Concocted with ultra-fresh products, it aims at harmony between the five flavors (salty, sweet, bitter, sour, and spicy). In fact, Thai dishes are a clever mix of tastes, colors, textures, and fragrances. Rice and noodles are the staple foods, to which meat or seafood can be added. To enhance everything, the seasoning is essential, whether it is sauces, spices, curries, or herbs (coriander, basil …).
Great culinary diversity
Food occupies an important place both in the Buddhist religion (via offerings) and in the daily life of the inhabitants. Just look at the number of restaurants and street food stalls, a real institution in the country. In the itinerant stalls, you can buy cut fruit as well as skewers, curries, or sautéed noodles… The diversity of dishes is also impressive, the cuisine varying according to the regions. To get a taste of it in France (and elsewhere), we can rely on the Thai Select label, awarded by the Ministry of Commerce of Thailand to the most authentic restaurants.
The nam plaa prik: a must!
Salty and spicy, this fish sauce (nam plaa) that contains fresh bird pepper (prik) is such an indispensable condiment for Thais that they often take bags of it with them when they travel, to enhance the dishes of restaurants.
Pad Thai: a very popular dish
Rice pasta sautéed in a sweet-savory sauce with chicken pieces or shrimp, eggs, peanut, lime, soy sprouts, and chives. Cheap, it is probably the most popular dish with tourists. A great classic of street food and beach huts!
Tom kha kai: a fragrant soup
Chicken (kai) soup (kai) with coconut milk is cooked with galangal (kha), a spice cousin of ginger, mushrooms, and lemongrass. It is particularly creamy and nourishing. It is found in the majority of restaurants.
Khao niao mamuang: a gourmet snack
The famous "mango sticky rice" is a must for sweet lovers. The ingredients? Rice, salt, coconut milk, palm sugar, and fresh mango. A real delight to enjoy at any time.
Laab: a festive dish
Served with fresh vegetables, a hard-boiled egg, and jasmine rice, this chopped meat salad with fresh herbs is embellished with a sweet-salty and spicy fish sauce, as well as grilled and ground rice grain powder. Homonym of a word meaning "luck", the laab is on the menu of weddings or birthdays.
3 tips to sting them
Opt for a rice-cooker
In Thailand (and Asia in general), this device is the indispensable accessory for successful steamed rice. Just know how to dose the water, press the button, and in a quarter of an hour, it's ready!
Make pineapple marinades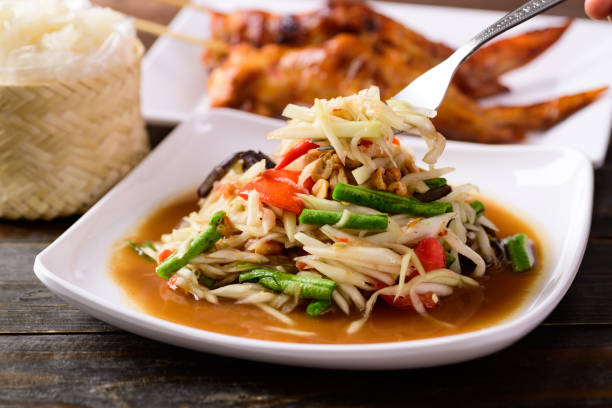 Thais sometimes marinate pork or chicken in juice or pieces of pineapple, the bromelain contained in the fruit to tenderize the meat. A tip to take up when preparing skewers on the barbecue, for example.
Use curry paste
Green, red, yellow, or panang, curry in paste form is much more powerful than powder. Test with chicken or sautéed shrimp. To sweeten the heat of the pepper, coconut milk can be added at its convenience.
Article published in the issue Femme Actuelle Jeux Voyages n°51 February-March 2022
Don't miss interesting posts on Famousbio